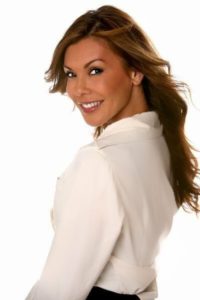 Abstract artist, Skin care specialist and Motivational Speaker, Jen Braff also works as Executive assistant to CEO, Jim Fowler of Novo Construction. Jen once was the long-time Executive assistant to the owner of the Los Angeles Lakers Dr Jerry Buss, until his passing in 2011. Jen has many other experiences, including her appearance in the NBC hit show, Age of Love. She was pitted in against girls half her age, in the reality series about whether age matters when it comes to love. In the final episode Jen came in as the runner-up. Jen has also recently appeared on 60 Minutes, the Dr Phil show, and was featured on TV Guides "Sexiest Stars of Reality TV. Other features include People Magazine, Star and US Magazine; all because of her youthful, unique and interesting take on life, no matter her age.
She's posed for Playboy Magazine, a television host for many live events in Los Angeles, and has been a swimsuit model for over 20 years, doing ads and runway for several companies including Ujena Swimwear. Jen obviously does not go by the "standard" when it comes to living life as an "older woman."
Jen is involved with charitable efforts that help to support abused women and children, has numerously appeared on Fox 11's Good Day LA for ST Martins animal rescue and adoption, and supports International Green Shield which helps raise monies victims of Katrina, etc.
She has started her own YouTube channel which tells of her secrets to DIY beauty, where and how to save on skin care, make up for women her age, staying and looking young, and being positive and confident in who you are at any age.
Jen has a son Jon in his 30's, whom she raised as a single mother without financial help from his father who was not much a part of Jon's life growing up. That situation actually helped her become a stronger woman and fortunately Jen was raised with both parents (still together,) 6 brothers, and a huge extended family, there was no lack of love and support. Three of her brothers are Los Angeles city firefighters; one is a high school teacher, another works for Long Beach Police Dept. She was most proud of her brother Harry who passed in 2011, and was disabled and taught her the most about compassion and patience.
She has been through many trials and tests in her life, some when just a child, but Jen believes your past is a important part of your life. Even the negative experiences are learning tools if you have the right attitude about them. They help shape who you are, but don't have to limit what you can accomplish and become, today. This life is to be lived now with the greatest happiness and joy. Everything is possible if you believe!
"Don't let people dictate how you feel about yourself. You can't control others, but you can be the master of how you think and feel about You."
Favorite Quote:
"Happiness cannot be traveled to, owned, earned, worn or consumed. Happiness is the spiritual experience of living every minute with love, grace, and gratitude." – Denis Waitley
Key Points:
Jennifer had a goal early in life to be happy. She had to deal with abuse as a young child which left her with damaged adrenals. Her recover was hard. Even so, she managed to compete in dance and in sports.
In 2011, her best friend and mentor, Dr. Jerry Buss, passed away and within the same time period, her brother passed away. This left her dealing with PTSD, which led her body's organs to start shutting down. Her cat also went through the same symptoms. At that time, she was bedridden for a year.
For those over 50 (and ever 40), don't put limitations and boundaries on yourself.
Be self-aware of what your body can handle and can't handle.
Jennifer is starting a YouTube series with her brother Jerry.
She wouldn't be where she is now had she not gone through her greatest transformation and the spiritual awakening she had.
She creates in her mind what she manifests outside, including her health and youthfulness.
Never stop learning.
"Don't put boundaries on yourself, don't be afraid of a number." -Jennifer Braff
3 Tips:
1. Learn how to take care of yourself first. You can't be your best self until you engage in self-care.
2. Learn unconditional love for yourself and for others..
3. Take responsibility for your life and stop blaming others for what happens. Let go of past issues.
Contact:
Facebook: https://www.facebook.com/jenbraff
Instagram: @jenbraff
IMDB: http://www.imdb.com/name/nm2496564/
Art: https://www.strictlyforthecompany.com/jen-braff
Instagram Art: @jenbraff_art