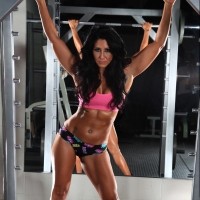 Jeanette' s passion for health and fitness started at a very young age, she has 20 years of experience in the industry. Her passion to help people transform their lives and instill healthy habits into their lifestyle is priceless. Her whole philosophy of fitness is mind, body and soul… it takes every part of us to truly commit and be transformed.
Her Credentials:
*WBFF PRO Bikini Model, Ms Bikini America Orange County, Ms Bikini America Los Angeles, and a Nationally ranked Fitness competitor
*Certified Personal Trainer and Certified YOGA Instructor
*Creator and Owner of her own personalized fitness gym: Extreme Results Fitness, Inc
*Creator of Bootoga®
*She is a Fitness Cover model and writer/contributor for numerous magazines (Most recent: FitnessX and BFW Magazine).
*Creator/Coach of the Ortega Hunnies Fitness competition team
*Celebrity Fitness Trainer
*TV Credits: BravoTV's Flipping Out (Fitness Trainer for Jenni Pulos)
Her knowledge is well versed in many aspects of Fitness and is more than willing and excited to share her knowledge and experience with all those who are ready to take on a WHOLE new life challenge. It will be the best experience of your life!
"Life was good but yet I felt something was missing. It was time to do something greater, I felt incomplete and lacking in the spiritual side of myself. I was always so focused on the physical aspect of fitness, I knew there was something more. I was granted the most amazing trip to Indonesia with one of my clients which became the most transformational trip of my life thus far. I have always loved yoga but this trip yoga became alive to me in Bali. I have never felt peace the way I experienced it there, it was the most beautiful feeling to have a peaceful and graceful connection with my mind, body and soul."
Key Points
1. Fitness means being balanced in mind, body and spiritual growth.
My greatest transformation was realizing that in winning in competition I was missing the spiritual and emotional transformation in my life.
2. Learn to release control and know that everything is already within yourself.
I had to do that with my gym after crying, asking myself if what I was doing enough.
3. Learn how to be vulnerable and authentic.
"Being vulnerable and really allowing people to see us is what brings up together – the connection."
4. Be true to yourself.
I had to learn to take a stand to what Jeanette needs and wants. Being true to myself.
5. Go through an emotional breakthrough.
Getting people to have their own emotional breakthrough, but, I had to go through it myself.
3 Things to Help Yourself
1. Surround yourself with people who want you to grow. Successful people are willing to help you, including giving your advice and support.
2. Deep dive into personal development. Go to workshops, ready books and attend seminars. It's about inner self-work.
3. Find the stillness. For me it was yoga that provided it. Becoming one with my mind and body, feeling the breath. Yoga helped me to loosen a tight body that years of weight lifting brought on and finding the stillness. Allow yourself to be and not do. It may not be yoga for you, it could be Tai Chi or some other way to stillness.
Connect With Jeanette:
Save
Save