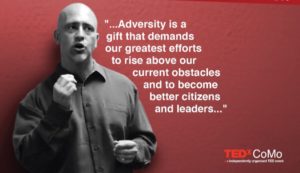 Marcus Aurelius Anderson is a TEDx and keynote speaker, author, coach and thought leader.
While preparing to deploy with the U.S. Army, Marcus suffered a severe spinal injury that left him paralyzed from the neck down. His life was turned upside down, and after dying twice on the operating table, he was told he would never be able to walk or use his hands again. Days quickly turned into months, and he was forced into life changing soul searching. He discovered he was left with two choices, he could either be a victim, or he change his mindset. Having no other option, he began looking for any lessons to be learned from his injury, and soon discovered that his Adversity was a gift. His is the story of overcoming by embracing "The Gift of Adversity."
He now speaks, teaches, and writes to inspire others to actualize their full potential and achieve their goals and aspirations.
Favorite Quote:
"I will either find a way or I will make one" -Hannibal
Key Points:
– Going through training for a deployment to Iraq, while serving in the U.S. Army, Marcus woke up the next morning completely paralyzed from the neck down.
– His transformation began after he realized he wasn't going to be able to walk again.
– He turned inwards into the pain to find out what he was supposed to learn.
– Marcus learned one thing that resisting what happened to him would stop him from moving forward. In fact, he had thought about taking his own life if he had the capability to.
– He looked for something to be grateful for and it was hard at first. He eventually found it.
– He discovered a new mission in life.
– He explained that you have to have urgency and accountability in order to make things happen.
"When I have purpose, when I have intent, I go at it with everything I possibly can." – Marcus Aurelius Anderson
3 Tips:
1. Adversity is an inevitability.
2. We are only as strong as the Adversity we overcome.
3. Adversity is a gift, embrace it.
"We don't know how long we have. We do have whatever time we have. Whatever your capabilities we have, it is a gift not be taken for granted." – Marcus Aurelius Anderson
Favorite Books:
Thick Face Black Heart by Chin-Ning Chu
The Art of War by Sun Tzu
The War of Art by Steven Pressfield
Contact:
"If you want to get something done, you better get up and start doing it right now, because you don't know how much time you have." – Marcus Aurelius Anderson
Website: marcusaureliusanderson.com
His TEDx Talk:
Speaker Hub: speakerhub.com/speaker/marcus-aurelius-anderson