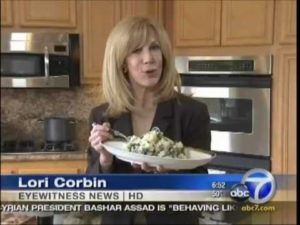 Food Coach Lori Corbin is a nutrition and fitness reporter for ABC7 Eyewitness News since 98.
Lori has a Bachelor of Science degree in nutrition, along with certifications in personal training and group exercise. She is also a member of the American Council on Exercise and the American College of Sports Medicine.
Lori once owned and operated a chain of exercise studios and a low-fat catering business. Her "Food Coach" program slimmed down notables like Tim Allen, Patricia Richardson, Billy Zane and a cast of soap stars. She also spent three years reporting on nutrition and fitness at KTVK in Phoenix, Arizona.
Lori continues to teach nutrition and fitness through consulting, personal training and group exercise classes.
Favorite Quote:
"If you think it, it is." – Unknown
Key Points:
"The version of truth that we can see in life is your perception." – Lori Corbin
– Lori was a shy girl when she was young. She was also the middle sibling.
– Her father was the Attorney General of Arizona for 13 years.
– Her mother was an entrepreneur who encouraged Lori to get into cheerleading when she was in middle school. Lori didn't participate in sports or fitness activities as her siblings had.
– She excelled as a cheerleader as she progressed through the years, including in high school and at the University of Arizona.
– Through cheerleading, she discovered her love in moving to music.
– Later, her mom pushed her to do what she wants and was passionate about.
– She created her own exercise classes in the Phoenix area. At that time, there were only regular old-fashioned gyms. So, by combining music with exercise, she helped get more people into fitness.
– She had a huge following at a local country club, including politicians, for her exercise classes.
– Later she would meet her husband. He was in the news business. This would help her later in her career. They moved to the Los Angeles area where Lori taught fitness classes and more.
– Lori created a meal catering service for celebrities who needed to get into shape. This started when Billy Zane contacted her is she could help him get slim for a new role.
– Her and her husband went back to the Phoenix area due to his career. Lori did a new segment on fitness and nutrition for 3 years.
– They moved to the San Diego area where Lori did grocery tours as part of a news segment.
– They moved back to Los Angeles where her husband suggested she approach ABC7 about reporting on nutrition and fitness. She's been a top reported in that arena since 1998 and helped to raise awareness in this area.
– She reports on new ideas in both nutrition and fitness.
– During this episode, Lori offered great tips in fitness and nutrition.
3 Tips:
1. Get your mental game on.
2. Have a plan for each day. Take small steps and be consistent.
3. Go for high quality effort. Don't think short-term. Instead, go long-term. Slow and steady wins the race.
Contact:
Website: abc7.com
Facebook: www.facebook.com/ABC7Lori
Twitter: @abc7lori
Instagram: @abc7lori
Lori teaches exercise classes at the Bay Club in Santa Monica and holds the Malibu Boot Camp where participants go on hikes, do yoga and more…