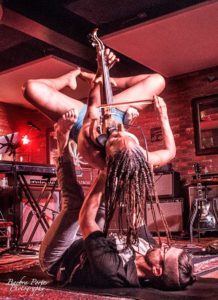 Ms. Elaine is a Classically trained violist/violinist who studied at the New England Conservatory in Boston, the Curtis Institute of Music in Philadelphia, and in the Critical Studies and Experimental Performance Practices Department at UCSD in La Jolla. Her academic degrees include the Performance Artist's Diploma and the Master of Arts. Ms. Elaine's musical mentors (which include former Principal Violist of the Boston Symphony Orchestra Burton Fine, Bert Turetzky, the late Karen Tuttle and Louis Kievman) all helped to encourage and lay the groundwork for her inspiration to teach and present concerts that engage the audience on multiple levels. Acknowledged in a review by the San Diego Union newspaper dance critic of her faculty concert collaboration with legendary choreographer Patricia Sandback at SDSU, Ms. Elaine is noted as "blurring the lines between dancer and musician…as she performs a Grand Jeté across the floor while flawlessly performing Bach on the viola."
An active part of the commercial music session player world of Hollywood, Karen Elaine has played in post production and on-screen for hundreds of projects, including JURASSIC WORLD, CARS, RATATTOUILLE, UP, MISSION IMPOSSIBLE #4, DANCING WITH THE STARS, AMERICAN IDOL, THE VOICE, THE ACADEMY AWARDS OSCAR BAND, THE EMMY AWARDS SHOW BAND. Her exclusively instrumental performances and recordings have featured Ms. Elaine as soloist with the London Symphony Orchestra, the City of London Sinfonia, Orquesta Sinfónica da Paraíba Brazil, Melbourne Symphony, Tasmania Symphony, the Rogue Valley Symphony, California Philharmonic, the Southest Los Angeles Symphony Orchestra, the Palisades Symphony, and many other ensembles and University orchestras.
Favorite quotes:
"Do what you love & love what you do." Karen Elaine's Mom
"All actions are a display of love or call for love." -Marianne Williamson
Key Points:
-Her mother was a best friend throughout her life.
-A former student of her mother was inspired by to pursue a career in the medical field. He went from being in gangs to being in medicine.
-She learned to use movement and exercise to help gain clarity.
-Karen helped a scuba student to both swim and scuba. He eventually became a dive master and assistant instructor.
-She combined Acro Yoga and violin in her work. In a sense, she brought back the art of dance with the art of music in one performance.
-Karen taught scuba for selfish reasons. She loved to teach and she loved the vibrational energy. Her students became very self-sufficient due to the way she taught.
3 Tips
1. Have a terrific teacher. Once you do, listen to that teacher.
2. To be true and authentic with yourself. Self-awareness is part of this.
3. Surround yourself with people who are vibrating with the same frequency as you. It's like the old saying, "birds of a feather, flock together." Soar with the eagles!
"All actions are a display of love or a call to love." -Karen Elaine
Favorite Books:
The Artist's Way by Julia Cameron
The Lotus Sutra, late lectures by Guatama Siddartha Buddha
Insomnia by Steven King
Contact:
Website: yogamusic.me
IMDB: www.imdb.com/name/nm2210520