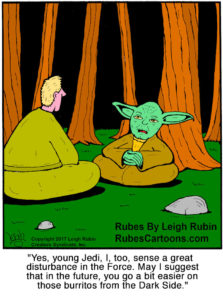 Leigh began his cartooning career in 1978 by establishing his own greeting card company, Rubes Publications. His first cartoon collection, the popular Notable Quotes musical cartoons, was published in 1981.
2017 marks the 33nd anniversary of Leigh's daily cartoon, Rubes®, which is now, distributed by Creators Syndicate to more than 400 newspapers and media outlets worldwide.
Leigh also enjoys a busy schedule giving thought-provoking and entertaining cartoon presentations at conferences, as well as professional organizations all around the country.
Program Description:
"A Twisted Mind is a Terrible Thing to Waste"
Take a twisted Pop Culture comic adventure inside the ridiculously twisted mind of Leigh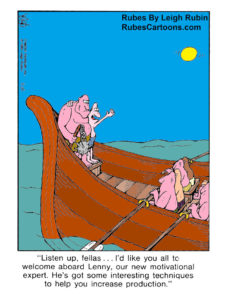 Rubin, cartoonist and sit down comic. We live in a pop culture world, a world filled with our favorite films, music, monsters and myths. It's a world of rock stars and scientists who rocked the world. It's a world of founding fathers, fiction, fast food, fairy tales and fantasy. A world of sit-coms, superheroes, sleuths, sci-fi, surrealists, and superspies. Our pop culture world of is a world inhabited by a advertising icons, aliens, genies, zombies and vampires. There are storybook characters, good guys, bad guys, wizards, witches, blockheads, blockbusters and best sellers. Leigh's "Twisted Pop Culture" presentation is an enlightening adventure which demonstrates the influence and importance of how our collective pop culture brings us all together into a hilarious shared experience.
Favorite Quote:
"Take time to laugh. It is the music of the soul." –Unknown
Key Points
– Leigh wanted to be an artist since the age of 5.
– He credits his 3rd Grade teacher, Mrs. Joy Mullen for seeing the value in his art and inspiring him to pursue it as his path in life.
Leigh Rubin, creator of Rubes comic strip, speaks at Cubberley's promotion ceremony
– Rubes Cartoons was first published in the Antelope Valley Press on November 1, 1984.
– Leigh's first book sold 40,000 copies.
– His first cartoon series was called Notable Notes.
"Rejection is not a bad thing." -Leigh Rubin
– Rejection is part of life and you can actually grow from it.
– Constantly promote.
– Follow through.
– Everybody deserves respect. You never know what that person knows and the influence they have. It doesn't matter their station in life. Respect them.
Transformational Tips
1. Look at the problem from as many viewpoints as possible. The answer to the solution can come faster or better when you do that.
2. Be persistence. It's a difficult journey and being persistence will help you reach your goals.
3. Don't be afraid to try something new. Just do it and grow from it.
Favorite Books:
Contact: