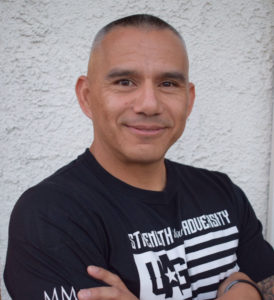 Cesar Martinez is the owner of Ultimate Athlete Gym.
He has been in the Fitness industry for over 10 years and I hold an MMA strength & conditioning certification, Personal Trainers certification (ISSA) and a Force Trainer certification through the L.A. Sheriffs Dept. Cesar has 17 years Law Enforcement experience and my workouts are unique and intense. I have worked with several clients from teenagers to adults. I also have trained Baseball, Softball and MMA clients.
Babe Ruth World Series 1990
Batting champion 13-15 year olds:
Cesar Martinez – Van Nuys, CA (.667)
He holds the California record of stolen bases for community colleges. Later at Cal State Northridge (CSUN), he played 2nd base alongside Adam Kennedy, SS (who would go on to play major league baseball). CSUN was the #3 ranked college team in the country in 1996.
Favorite Quote:
"I'm not the strongest. I'm not the fastest. But I'm really good at suffering." –Amelia Boone, endurance racer
Key Points
"You don't need to be the strongest, the fastest, the smartest person in the room, you just really need to grind." -Cesar Martinez
1. You need to work hard at times and you need to find that will power within you (and grind it out).
2. Learn to pace yourself. Learn how to grind and to finish stronger than you thought you could.
3. Cesar was smaller than most of the baseball players at L.A. Pierce College and even though he failed the first evaluation, plus being told he had two options: to redshirt or to transfer to another college. He found another option. To work as hard as he could. To be the first on the field and the last off. He did things other players didn't do. He went from a mediocre 2nd baseman to a better one which led to him becoming a better person. Cesar set the California record for stolen bases for Jr. Colleges, which he still holds.
4. Meditation, yoga and visualization are all important.
5. His experience has helped him become a better parent for his daughters.
Tips to Help You Transform
A – Awareness. Be brutally honest with yourself. You have to be aware.
C – Choice. The choices we make help to determine the direction we go. We are always at choice.
T – Time and Consistency. Too many people are not willing to put in the time and be consistent about it. Success in any endeavor takes time and take action on a regular basis.
Favorite Books:
Tools of Titans by Time Ferris
The Travelers Gift by Andy Andrews
The Firestone Syndrome by Stephen Beeler
Save